Aubergine is the king of vegetables in Turkey. sort of a tomato, it's actually classified as a fruit because it's seeds. this is often one among my favourite and scrumptious Turkish eggplant recipes. Eggplant, Lentils and Peppers cooked in vegetable oil, also referred to as Mercimekli Mualla is from Antakya and has been cooked within the southern Turkish kitchens for generations. Dried mint and vegetable oil flavour the green lentils and aubergine/eggplant beautifully. We make this recipe using the Turkish Zeytinyagli method (Vegetables cooked in olive oil) and it's important to let the dish cool within the pan so it can rest and therefore the flavours develop. Passed on to me by my grandmother and mother, I share this recipe with you within the hope you enjoy it the maximum amount as we all do.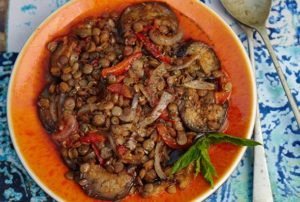 Ingredients
6 oz green lentils, rinsed
2 medium eggplants
2 medium onions, halved and thinly sliced
4 cloves of garlic, crushed and finely chopped
1 red bell pepper, cut in half and thinly sliced
14 oz can diced tomatoes
1 cup of water
3 Tbsp extra virgin olive oil
1 tsp salt
1 tsp granulated sugar
2 tsp dried mint
freshly ground black pepper to taste
Method
Put the green lentils in a pan of boiling water, stir and cover. Simmer in low heat for 15 minutes. Drain the water and set aside.
Using a vegetable peeler, peel the aubergine/eggplant in zebra stripes. Then, cut the aubergine/eggplant in half lengthways and cut each half into medium slices. Spread them on a wide tray, sprinkle salt over and leave aside for 15 minutes. Using a paper towel, squeeze the excess water out of the aubergines/eggplants.
Heat the 3 Tbsps of olive oil in a heavy pan and very lightly sauté the aubergine/eggplant slices for a minute or two. This will help aubergines/eggplants to soften up and start bringing out their lovely sweet flesh.
In a large bowl, combine the partially cooked lentils, onion, garlic, bell peppers, chopped tomatoes, salt, dried mint, th rest of the olive oil, and the sugar. Season with ground black pepper, check the seasoning and add more salt if needed.
In a wide heavy pan, place a layer of the aubergine/eggplant slices. Spread the half of the vegetable mixture over the aubergines/eggplants evenly. Place the remainder of the aubergine/eggplant slices over the top and spread the remaining vegetable mixture over also. Add the water, cover and cook on a medium to low heat for about 35 minutes.
Once cooked, cover and cool the dish in the pan, this will allow the flavours to develop and blend well. Serve at room temperature with some crusty bread.
Afiyet Olsun (means 'May you be happy and healthy with this food you eat").
Check out Ozlem's website here! https://ozlemsturkishtable.com/