This tuna dip is a delightful takeoff from the ponderous great. It features heart-sound fats, with omega-3 unsaturated fats in the fish and monounsaturated fat in the olives and olive oil.
Castelvetrano olives have a light flavour and buttery texture that works well during this condiment, however, if you've got bothered finding them, any gentle olive can do. once getting canned tuna, search for the words "pole-and-line caught" on the label for the additional sustainably-caught fish. we have a tendency to like Wild Planet complete.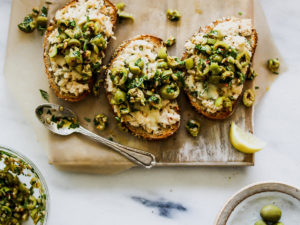 Ingredients
1/3 cup pitted Castelvetrano olives
1 tablespoon extra-virgin olive oil
2 teaspoons lemon zest, plus 2 Tbsp. fresh lemon juice, divided
2 tablespoons fresh chopped parsley
1 tablespoon roasted sunflower seeds
1/4 teaspoon kosher salt, divided
1/4 teaspoon freshly ground black pepper, divided
1/4 teaspoon crushed red pepper flakes
1 (5-oz.) can solid white albacore tuna in water, drained
2 tablespoons fresh chopped dill
2 tablespoons mayonnaise or plain whole-milk Greek yogurt
1 teaspoon Dijon mustard
1 1/2 ounces grated low-moisture mozzarella cheese
4 thick slices whole-grain bread
Step by step instructions to Make It
Stage 1
Join olives, oil, 1 tsp. of the lemon get-up-and-go and 1 Tbsp. of the lemon juice, parsley, sunflower seeds, and squashed red pepper pieces in a bowl; mix well. Put in a safe spot.
Stage 2
Join fish, dill, mayonnaise, mustard, staying 1 tsp. lemon get-up-and-go and 1 Tbsp. lemon squeeze, salt, and dark pepper in a bowl; mix well.
Stage 3
Preheat grill to HIGH. Separation fish plate of mixed greens uniformly on each cut of bread; place on a foil-lined heating sheet. Sprinkle cheddar equitably over top. Cook for 1-2 minutes, until cheddar liquefies. Spoon olive salsa over toasts.